Introduction
The idea of a room in a home dedicated to personal hygiene and grooming is, strictly speaking, a recent one. For the most part, houses built much before the turn of the century didn't have bathrooms. So, in the span of about 100 years, the modern bathroom has evolved from a novelty into an almost-universal residential fixture. But there has always been a need for disposing of human waste, as well as a need for providing facilities for bathing and grooming. How those human needs evolved into the modern bathroom is a story about both technology and culture.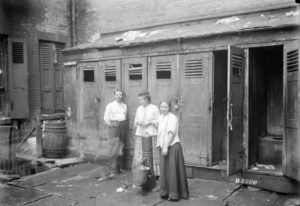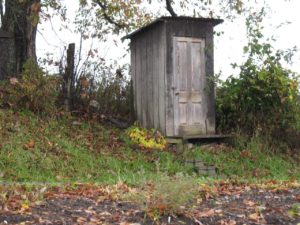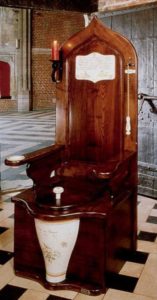 1920's
In the 20's was the start of using color in bathrooms. Bathrooms not only became functional but they became fashionable. Kohler was the first company to introduce colored fixtures of toilets, sinks, and tubs. They came out with 6 colors: Horizon Blue, Old Ivory, Spring Green, Lavender, Autumn Brown, and West Point Gray. This was a major innovation since before then every fixture was white and no one ever thought to change that until now. In the 20's a lot of the sinks were attached to the wall without a vanity or pedestal sinks.
Other features typical of 1920's bathrooms include:
Vitreous china pedestal sinks or mounted sinks with thin chrome legs

Formica countertops and sparse counter space

Wood cabinet storage spaces

Chrome fixtures with rectangular shapes and rounded edges

Rectangular bathtubs with low or no showers

Big, boxy wood vanities

Vinyl-topped stools

Built-in accessory holders such as toothbrush holders, magazine racks, and soap racks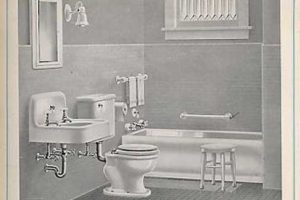 1950's
In the 50's thru the 60's pink and mint green were the most popular colors in the bathroom and not just as accents or paint color but the entire bathroom including the tub, sinks and tiling. Pink, the color of optimism was a reflection of the postwar America. After Mamie Eisenhower wore a silk ballroom gown that had 2,000 rhinestones on it to the inaugural ball in 1953 it became a must for bathroom styles all over the country. Bathroom decorations stemmed from summertime garden colors. They would even put built-in planters in the windows on the inside to create the garden feel.
Vinyl flooring was popular in the 60's but went out of fashion in the 80's because of

asbestos. Now it has become popular again because they are making it asbestos-free and due to its affordability, durability and easy maintenance.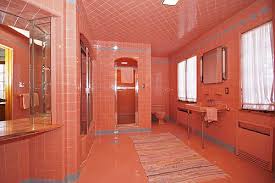 1970's
The color scheme only got more extravagant in the 70's and carpet on the floors became very popular which nowadays is a big turn off and is only thought of as uncleanliness. Nothing was ordinary in the 1970's bathroom. Shag carpet with rugs and toilet covers plus brightly patterned wallpaper and window coverings.  It was more like an invitation to a birthday party than a bathroom break. Tub enclosures also became a popular thing with decals of patterns on it of course.
Wood paneling was popular in the 70's because it was inexpensive and easy to install and then went out of style because it was too common. It has become popular again but painting it white is more common in the 21st century.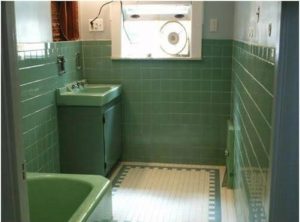 Today
It's all about a luxurious spa-like feel in bathrooms today. The white, clean and clutter-free look that was once seen in bathrooms before 1920's is back but now it is popular to have state of the art technology and be a place to get away from the everyday stresses of the 21st century. Tubs aren't as popular as they were in the 1990's but they are still seen in them once in awhile if done right. Homeowners who don't use tubs are opting out and saving the space for large walk-in showers that have double shower heads or a bench to keep their fast-paced life still peaceful and spa-like. 
In the 80's glass block walls were very common in walk-in showers or used for windows to let natural light in but not be able to see into the bathroom from outside.

In the 90's is when large master suites started to become popular in homes. They featured an en-suite and walk-in closets. This hasn't gone anywhere since its popularity except master plus en suites are becoming more popular on the main floor away from the other bedrooms for more privacy.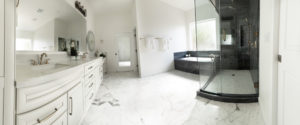 Feel free to Contact Us here at Retro Pro Kitchen and Bath and we would be happy to answer any questions you may have!
Follow us on Facebook
Follow us on Twitter