When remodeling your kitchen if you plan on living there for awhile and you have children then plan your remodeling with them in mind. Custom-design a daily hangout that's tailored to your family's needs. Children in the past decades were supposed to be seen and not heard. But, today, kids are appreciated as the independent humans they are, and it is very easy to devise rooms that suit all needs. For today's families, who often consider the kitchen to be the soul of their home, it's important to help youngsters feel comfortable. The kitchen is not just a place of physical nourishment. It also serves as a daily hangout spot, a homework center, and the family headquarters. Number one priority is keeping it safe for children especially if they are small still. Have in mind opting for rounded furniture, locking mechanisms for lower cabinets, or covering up outlets. A home should also be about fun, functional, and beautiful for both grownups and the kids. Below are a few things to consider to make it kid-friendly.
Give them their own stuff and own space. If the kitchen is already a place where the kids tend to congregate then creating a space specifically for them makes sense. A durable quartz countertop is perfect for kids because it's stain resistant, maintenance-free and usually come with a lifetime warranty if you go with a high-quality company. You can make a special spot in the kitchen for them and even have the countertop at a lower level so it gives them their own workspace. If you don't have a lot of space then you can create a pullout countertop in a kitchen island.

Build a replaceable home design element that grows not just with your kid's heights, but with their personalities and tastes also. Choose kitchen cabinets that have handles you can swap out in few years. Install short pendant lamps now and get longer ones when your toddlers aren't trying to climb on the dining room table. Lighter colors can be painted over easily compared to darker ones so make sure the kitchen area is on the lighter side.

Keep your kitchen looking good. Choose surfaces wisely with children. Make sure they are scratch-resistant and can stand up to amateur etching artists.
Some Tips on Kid-Friendly Kitchens
Have a chalkboard on the wall or pantry door.

Put kids dishes within arms reach.

Provide a step-stool for kids to help out in the kitchen.

Have a snack zone in the refrigerator for easy grab n go.

Computer corner or built-in desk.

Choose cabinets that hide fingerprints.

Go with durable slip-resistant flooring.

Go with a semi-gloss paint, stains, fingerprints & scribbles wipe off easier.

Install a warming drawer to help with cooking.
It's important to take into consideration that when remodeling with your kids in mind is that they grow quickly and creating a space that is interchangeable is ideal. That way you can change the details as they grow out of them. The things like cabinets, countertops, and appliances will be there for a long time so those can be standard and choose what looks best for you with durability in mind. The rest can be customized and changed out as time progresses.
Questions to Ask:
How many children do you have, and how old?

How does each family member use the kitchen?

Do children prepare their own snacks and/or meals?

What about pets?

Who hosts the family gatherings, and how large are these events?

Do you cook for family gatherings (or order take-out, rely on a caterer)?

How many family members cook in the kitchen at one time?

What is each person's role in the kitchen? (For example, dad cooks on weekends, mom makes everyday meals, children prepare their own breakfast, etc.)

Describe a day in the life of your kitchen. What works? What doesn't?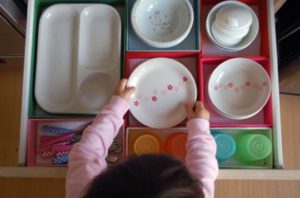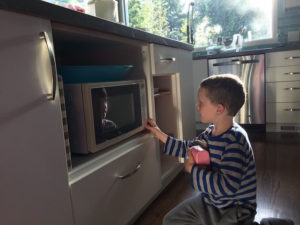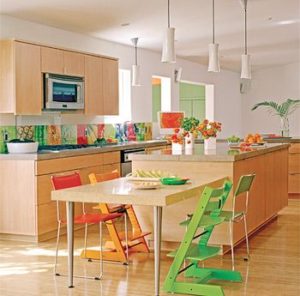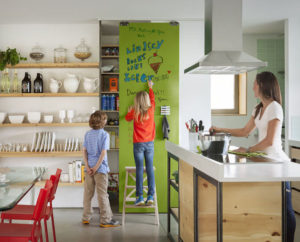 Utensils to help kids cook in the kitchen
Eating at home is the best way to stay healthy in a society where obesity and diet-related diseases are worldwide which is second to smoking in the US. When we cook at home, we control the fat, cholesterol, sodium and sugar we consume. If we use fresh ingredients as much as possible then we can create a better path for our children to adopt a lifetime of better eating habits. The best way to do this is to get them in the kitchen and start cooking meals with us to teach them the basic tools of healthy eating. Legendary French knife maker Opinel has created Le Petit Chef set, kid-friendly cooking tools that promote proper and safe knife handling. The child-size kitchen knife and vegetable peeler both feature what Opinel has dubbed an "educational ring." The child's index finger slips into the ring, properly positioning the hand on the tools, away from the blades. The knife blade has a rounded tip for additional safety. They are not toys. Since 1890, Opinel has made handcrafted wooden handled folding pockets knives; originally sold as working men's knives, they have become iconic french tools.
Here are some kid-friendly kitchen tools to look into for your kids to have fun in the kitchen and learn the basics of cooking: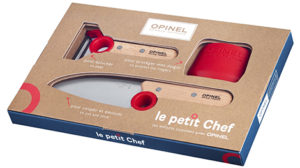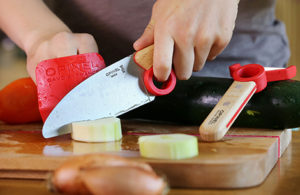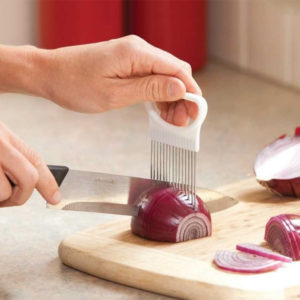 Feel free to Contact Us here at Retro Pro Kitchen and Bath and we would be happy to answer any questions you may have!
Follow us on Facebook
Follow us on Twitter